On many occasions people ask me, "does hypnotherapy work"? To be asked this question is not surprising though, after all I am a practicing Hypnotherapist. I understand why people ask this question, it is mainly because of doubt. They doubt hypnotherapy will work for them; they doubt they have what it takes to make changes; they doubt themselves.
"When you doubt your power, you give power to your doubt". Honore de Balzac
So, does hypnotherapy work? Thank goodness it is reasonably easy to answer such a question, (research in recent years has helped to demystify and normalise hypnosis). My answer is something along these lines: "luckily for us, it has already been proven that hypnosis and hypnotherapy work, just ask any top performing sports person or athlete. Sports people know that the power of the mind during hypnosis gives them the edge over competitors and improves their performance.
"Don't let your mind bully your body into believing it must carry the burden of its worries". Astrid Alauda
It is fascinating to read about sports hypnosis research, particularly noteworthy are these articles addressing hypnosis which were published during the early portion of 2002. Furthermore, here is hypnosis research about a group of gymnasts who perfected their performance, improved on some complex tricks and increased their flexibility.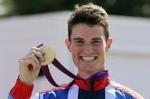 Hypnosis has been used for many years in the training of athletes for the Olympics. It was reported that the Russian team had about 11 hypnotists on hand at the 1956 Melbourne Olympics. More recently, a Hypnotherapist helped an Olympian to win a Gold Medal at the 2012 London Olympics. Hypnosis is used more and more in professional sport, including tennis, golf and gymnastics just to name a few. Most of the 'well known' athletes use hypnosis to improve their confidence and endurance, concentration, focus and overall performance.
In much the same way hypnotherapy can help people just like you and me to improve confidence, to overcome bad habits and make positive changes in our lives.
"Your belief determines your action,
Your action determines your results,
but first you have to believe".  Mark Victor Hansen
If you would like to discuss your personal situation with Katherine Ferris, a Registered Clinical Hypnotherapist, then please call (02) 9568 6801 or get in touch via email using our contact form.
Written by Katherine Ferris, Clinical Hypnotherapist
"Thank you for sharing this post"