It is vital to look for Clinical Hypnotherapist Accreditation when searching for a reputable Hypnotherapist in Sydney.
Katherine Ferris is a Clinical Member and Fellow Member of the AHA a Registration Body for hypnotherapists and the premier association for hypnotherapy and hypnotherapists since 1949. AHA is the oldest and largest hypnotherapy organisation in Australia. Registration with such a professional body reflects a hypnotherapist's willingness to demonstrate to the public a strong desire to be accountable.
Registration is the only formal process that members of the public can rely on in relation to standards and accountability. The Australian Hypnotherapists' Association is recognised by State and Federal Governments, The Psychotherapy and Counselling Federation of Australia (PACFA), Private Health Funds and industry bodies as the Peak Body for hypnotherapists in Australia since 1949.
Not only is the AHA the oldest Hypnotherapy Association in Australia, it is also the largest independent Hypnotherapy Association in Australia. The AHA is the voice for professional hypnotherapists. My name is Katherine Ferris and I've held the position of National Secretary and State Secretary on the Board of the Australian Hypnotherapists' Association, from 2007 until May 2012 and again from March 2015 till present time.
General Hypnotherapy information can be found on many pages on this site, however if you wish to discuss you personal situation please phone (02) 9568 6801 or send an email with your enquiry.
National Hypnotherapists Register of Australia – NHRA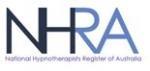 Katherine Ferris is a Registered Member of – NHRA – National Hypnotherapists Register of Australia. Each therapist whose name appears on the Register must have demonstrated that he or she meets requirements in Ethics and training standards. The Register provides an authoritative guide to the qualifications and standards of training of hypnotherapists in Australia. All members listed on the Register have undergone a rigorous application process in which their qualifications, relevant training and supervised experience have been verified. It also confirms that they meet requirements for on-going supervision and professional development, and that they belong to a recognised professional hypnotherapy association.
Written by: Katherine Ferris, Clinical Hypnotherapist