Hi Katherine,
I just wanted to say that thanks to our hypnobirthing sessions with you, our little boy Quinn was born in a calm and drug free way.
After finding out I was pregnant with baby number 3, I thought what I would like to do differently this time around, is the birth. With the previous 2, I just kind of went into labour hoping for the best, and while I was able to deliver naturally, I didn't feel confident and in control of the situation either time. So I looked into a few different methods of preparing for my 3rd birth and decided to book into hypnobirthing with Katherine.
It was the best thing I did.
It gave me the tools to practice breathing and relaxing leading up to the event, so that I felt confident and dare I say eager for the birthing to begin. When it finally did (number 3 was 2 weeks overdue) I went straight into my hypnobirthing breathing and was happy to use all the things that I had learned to get through the birth.
I had booked into the Birthing Centre at RPA (which I didn't have the confidence to do with the previous 2, as they don't offer pain relief such as epidurals) and the midwives there were so supportive of the process that I felt calm and in control the whole time.
I went into the birth relaxed and listening to your voice!!  Everything up until transition went absolutely according to how I wanted… I still found transition pretty confronting and powerful and certainly wasn't in the same relaxed state as the women in the video's you showed us…
…but I was calm and happy enough to get on with the job… because of your sessions, I was prepared and happy to ride the experience out – and had a great experience with the midwives at the Birthing Centre at RPA as well.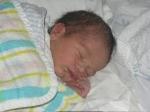 Our baby boy was born after approx 5 hours in a calm and drug free way.  People thought I was strange saying that I was going in this direction for my 3rd birth, but it ended up I learned so much doing the hypnobirthing sessions – even after 2 previous births!
I would recommend hypnobirthing to anyone who is having a baby – you can't have too many tools to help you through this amazing, but sometimes challenging experience.
Thanks again for your knowledge…. I will recommend you to anyone who asks!!!!
Amy (and Logan)