Hi Katherine,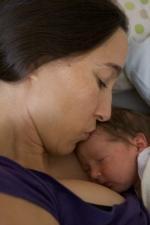 Yes have given birth.
Not quite the way I was hoping though. I saw my obstetrician last Thursday and he said from the ultrasound results there was no way my baby was going to turn, and that there was evidence the placenta was failing. He said I would need a caesarian or my baby may die inside me! So he did the surgery the next day.
Wow what an experience.
The hypnobirthing classes definitely weren't a waste though, I used the breathing techniques prior to the surgery, and in recovery dealing with the post op pain. And also helping me to relax when going through the whirlwind of looking after a new born when you actually know nothing.
Freya Matisse Sirotti is a very calm baby despite having been surgically removed, apparently she came out sucking! I wonder whether all my relaxation practice in the past few months contributed to this.
So all is good, not quite as I planned, but she is a very healthy sweet baby and so I am very grateful that she came out when she did.
Thanks again for all your help. I feel that learning self hypnosis techniques will be very useful to me in the future to deal with stress, anxiety or pain etc.
Kind regards,
Giles and Simon and Freya