Hi Katherine,
Hope you're well. It's Rebecca C. here. I attended your hypnobirthing course a couple of months ago and I wanted to share with you our birthing experience.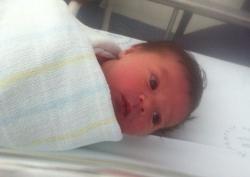 Evie was born on her due date, 8th April. I had my first pre or early labour surge on Friday night, 5th, and didn't go into active labour until Monday 8th at 1.30am. It was a very long 48 plus hours with surges coming anywhere from 30 mins to 6 mins apart over that time.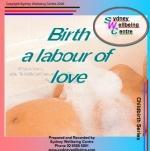 I used hypnobirthing breathing, visualizations and listened to the birth preparation cd through the entire process. Kris used the light touch massage and breathed the surges with me.
Evie was in LOT, (side-on presenting) not posterior, so it can explain the long pre-labour, but in a way it was a blessing as I had plenty of time to get myself well and truly into the hypnobirthing zone, and ultimately my active labour was relatively quick and very successful!
And yes I do look back on it fondly, and with a sense of pride in all 3 of us!
In the end Evie was born at 11.15am on April 8th, 100% natural vaginal delivery and I came out unscathed, no tears, no stitches, wow.
I was actually 8cm dilated when I arrived at hospital as I wanted to stay at home for as long as possible to avoid intervention and I had the courage to do so because of the birth breathing techniques and sense of confidence and empowerment I gained through learning and practising hypnobirthing. I also used the Epi-No in the four weeks leading up to the birth, so that may have helped with the preservation of my perineum.
The midwife commented afterwards that I was so relaxed, calm and composed and I would agree. It was hard work but I was so in the zone and determined and focused and armed with all the right info and tools. Kris was amazing too, a calm, gentle and supportive presence through the whole journey.
So, I just wanted to share and thank you for imparting your knowledge and experience with us. We are very happy and proud parents!
Thanks again.
Rebecca, Kris and Evie