Hi Katherine,
Just thought I'd drop you a line to let you know that our daughter has arrived. Lola Grace was born on 13th November, 48 cms and 3.3 kgs. I've attached a photo for you to have a peek at how gorgeous she is!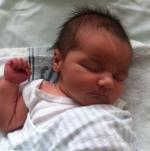 We ended up having a bit of a tough time bringing her into the world.
The story….. my waters broke on Wednesday and the birthcentre midwives advised to continue monitoring her daily (via CTG) as I did not go into labour. They thought that it was my hindwaters that had broken. When I went back in on Saturday we saw an obstetrician who was concerned about the risk of infection so he recommended induction.
The midwives tried to break my forewaters but couldn't do so as my cervix was unfavourable so I went on the drip. 8 hours later labour started in quite an abrupt manner and before long I was having contractions on the back of each other, without much of a break. During this time I tried to use the hypnobirthing breathing techniques and attempted to remain as calm as I could. I was so glad to have had something to focus on. After about 6 hours of this I had another internal exam and I had only dilated 1 cm so I decided to have an epidural as the obstetrician thought that labour would become more intense and last at least another 12 hours. During this time her heart rate also had periods of dropping which was worrying the obstetrician. Soon after the epidural the obstetrician recommended caesar as I was only able to lie on my right side, otherwise her heart rate was dropping. So we took their advice and she was born about 15 minutes later.
We were surprised but absolutely delighted she is a little girl – I was so convinced that she was a boy! She came out perfect and in the end the doctors were't really sure why her heart rate had been dropping during the labour. Initially I was in a bit of shock with the way the birth went – not the birth centre experience I was hoping for. But of course, we are thrilled that she is a healthy little girl and in the end it doesn't really matter how she got here. I feel very thankful that I could practice my breathing techniques during 6 hours of a very tough induction and tried to continue using them through the caesar too.
Thanks again for your course. Liv and I learnt so much and it instilled a lot of confidence in us for the labour. Apart from the hypnobirthing techniques we also learnt a lot about the birth process and what we could expect. It was also wonderful to meet Rachel and Luke – who we both thought were lovely and supportive people.
Kind regards,
Kristy