Hypnosis to stop gambling puts you back in control
Why hypnosis? Because hypnosis can help you stop gambling quickly!
Hypnosis therapy can help you stop – even if gambling turned your bank account into a train wreck? Even if the pressure, stress and anxiety are off the rails? Get in touch to find out more!
There is no better time than today to put your life back on track!
At first you thought it's just a flutter. A bit of fun! Few dollars here and there… You convinced yourself you can handle it. You got hooked…
Yes, you got hooked on the "high" from the rush of adrenaline and dopamine as you chased the next big win.
Once you're hooked on sports gambling; poker machines; TAB horse racing; or the casinos; it's hard to break free.
Has Gambling become a serious financial problem for you? Does your bank account resemble a train wreck?
Gambling is a bad habit that is difficult to break by willpower alone. 
A compulsive gambler discovers that as the "adrenaline rush" declines, the urge to gamble becomes stronger"
In many instances you keep chasing your losses. Mistakenly believing that if you continue gambling, you will eventually win back your money. But even when you're losing, your body is still producing an addictive cocktail of adrenalin and dopamine. This is where hypnosis for stop gambling can help.
Gamblers get a high even when they lose!
People often think that gambling is about winning. But gambling addicts get a dopamine buzz even when they are losing.
A vicious cycle develops. As the addiction grows in intensity, ability to control the urge is weakened.
Sadly, gambling is a compulsive addiction you can't control. It's now controlling you… emptying your bank account.
Unfortunately, you know there's a lot more at stake here than just gambling itself. You've become secretive and hide the truth about your gambling losses. You feel guilty for keeping it a secret.
Even though you know all this, you're still finding it difficult to stop.
Well, you are not alone.
Gambling addiction can happen to anyone
Many people who develop a gambling addiction are responsible, even dependable people. However, life's stressful situations or emotional trauma can be a trigger. People are susceptible to gambling for reasons such as:
Social activity – gambling with friends
Emotional issues,
Stress and anxiety
Boredom
Relationship problems
Work related stress
Depression, low moods
Loneliness 
Retirement, lack of activity or interests
Addictions, such as binge drinking etc
Here are 9 gambling problems hypnosis can help with
People with a gambling problem will experience at least some of the following symptoms:
Increased frequency in thinking about gambling
Increasing desire to gamble when upset or stressed
Emotional excitement, chasing the next win
Compulsion to gamble even after losing money
Unsuccessful attempts to control the urge
Agitation and irritability when trying to stop
Lying to hide gambling losses
Borrowing or stealing money to spend on the habit
Relationship or work problems develop because of gambling
Many people manage to stop gambling for a short time. But they take it back up again. Maybe because they became bored or irritable or difficult to live with. Hypnosis can help break the triggers and compulsive habits associated with gambling.
Stop gambling addiction to Poker Machines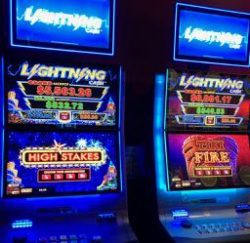 Look around any pub or club today and you will find people from all walks of life "playing" the poker machines. But for a majority of people, this is no simple form of playing for fun. They unwittingly gamble away their hard earned money.
Business people, managers, office workers, tradesmen and pensioners; compulsively gamble money away on the poker machines.
For example, some people spend a vast amount of money chasing the next win, or trying to recoup their losses. Others do it out of sheer boredom. Some suffer from loneliness; they avoid being at home alone.
Unfortunately, a large number of gamblers don't have enough money for food, but instead they feed the poker machines.
TAB and Horse betting addiction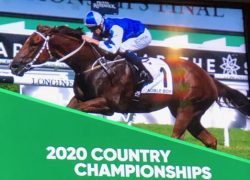 Some punters say they enjoy a flutter or two on the horse races. But for many it's not simply a flutter, it's a full blown obsession. TAB is the most frequented venue for the track racing, be it for bets on horses or dog races.
Usually every race starts off with an adrenaline rush. Cheering loudly in the hopes they've picked the next big winner. But, unfortunately picking losers on the race track is more the norm.
Stop Casino gambling addiction
Casinos, Las Vegas style, are very well known for their roulette wheels and large betting stakes on poker games. Casionos attract big crowds, big bets and Hollywood style dreams of winning a huge amount of money. Many of those dreams are shattered, because the big losses are more common and end up making people go broke.
It's hard for the compulsive gamblers to wake up from the seemingly glamorous, big dreams, that pull the wool over their eye. Like in a bad dream or a nightmare, the gamblers find themselves time and time again, betting away their hard earned money.
Online gaming and sport betting addiction
Sadly, gambling addiction of any kind is known to cause financial ruin, including online and sports betting. Because online betting is available anywhere, anytime 24/7, it is the most accessible and in many instances the most addictive. Hiding the gambling problem becomes more difficult for compulsive online gambling addicts.
Online gamblers become blind to just how much they are overcommitting themselves. Overspending on large bets will put many gamblers in debt. They borrow money hoping to pay it back with the next big win.
Stop gambling addiction today!
Stop flushing money down the drain.
Stop feeding the poker machines.
Forget about TAB, horse racing or sports betting.
Compulsive gambling affects you both financially and emotionally.
Statistics of Problem Gambling
It is estimated that a large percentage of adults gamble either online or on 'pokies' every week. The sad reality for many people – the money intended to pay bills and feed their family – is fed into slot machines.
Below graph shows just how much money is spent on Gambling each year in Australia. More than 12 Billion dollars on Poker Machines alone and another 5 Billion on Casino gambling.
Does failure to stop gambling affect you emotionally?
Yes it does! Compulsive gambling not only affects you financially but also emotionally. Issues with a gambling addiction put a strain on work and family relationships. Repeated attempts and subsequent failures to stop gambling will frequently lead to emotional problems such as;
guilt
shame
lying
dispair
secrecy
anxiety
insomnia
depression
dishonesty
low self-worth
low self-confidence
lack of control over finances
There's a lot more at stake here than just gambling itself. Every time you fail, you reinforce that failure. You hide the truth from others about your gambling losses. You feel guilty for keeping it a secret.
Similarly, people often say that their gambling addiction drains their wallets very quickly. It's like flushing money down the drain.
Subsequently, you end up feeling even worse than before. As a result, you feel drained emotionally and financially. Your trust in your willpower and your self-worth is eroded. Your stress levels go through the roof.
You've been there, you've done that.
Why not stop gambling for good with hypnosis?
Stop Gambling Hypnosis therapy has helped many people, just like you, to stop gambling permanently!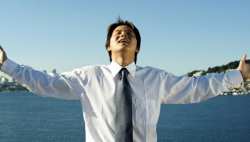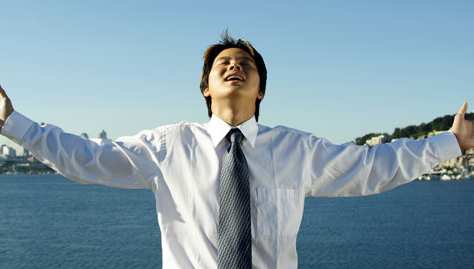 Hypnosis for stop gambling puts you back in control. No more money down the drain. No more feeding the poker machines or TAB horse racing or sports betting.
No more sleepless nights.
You will be glad to know what a huge relief it is for many of my clients, who happily share their long term success at being a non-gambler. And I am grateful that they recommend my hypnotherapy services to their friends or family, to help them stop gambling too.
Stop Gambling Client Testimonials:
Hypnosis helped many people overcome the addiction to gambling
I have not been drawn to the poker machines for months now and I know that it is no longer a problem for me. I have been feeling a lot more positive and self assured as a result. I have no hesitation in referring my friends. ~ G.S Jansen 
Horse betting is the thing of the past. Now I can walk right past the TAB and not even give it a second glance. Its a relief that my old compulsion to put a bet on a horse has gone, thanks to you I don't think about it anymore. ~ Z.Richards
To be honest, at first I didn't believe hypnosis would make such a big difference. To my disbelief, after my first few sessions, I stopped gambling. Since then, not only did I save money, but recently I got married and plan on starting a family. Sara G.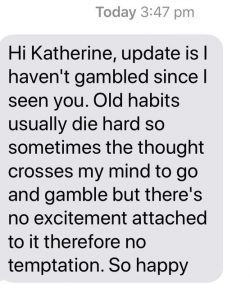 The difference between failure and success to quit gambling comes down to this: "with hypnosis your desire and commitment for success becomes far greater than your addiction or fear of failure" ~
Why hypnosis? Because hypnosis can help you stop, even if gambling has made your financial life resemble a train wreck? Even if the pressure, stress and anxiety are off the rails?
There is no better time than today to start on the path to becoming a non-gambler. Call today to put your life back on track.
How much does hypnosis cost to stop gambling? 
Here you will find the full list of fees, and you will receive a discount when you pre-pay 2 x hypnotherapy sessions, then the cost is only $570
(much less than some people spend on a session of gambling)
Go ahead, get in touch today and commit to two, three or four sessions of hypnosis to help get your life back on track..
You are going to spend the money anyway, so why not spend the money on investing in your future. Hypnosis can help you regain your financial and emotional health and stop gambling for good.
I am your local hypnotherapist ready to help you stop your compulsive gambling addiction, so that you can invest your hard earned money in your wellbeing and enjoyment in life instead.
Stop gambling addiction fast!
No more money down the drain.
No more feeding the poker machines.
Forget about TAB, horse racing or sports betting.
Compulsive gambling affects you financially and emotionally.
You've been there, done that. Now you're over it.

Stop Gambling today with hypnosis therapy.
Get in touch today for more information on clinical hypnotherapy to stop gambling. To make an appointment for a hypnosis therapy session, call today to speak to me, I am Katherine Ferris. I am your local registered clinical hypnotherapist and Stop Gambling Therapist in Sydney on 02 9568 6801. Alternatively you can click below to complete my contact form or book a session online.
More information: Government office for responsible gambling for residents of NSW.