Hypnotherapy Annandale Location
Views from Annandale – Inner West, looking across the Bay over the beautiful city of Sydney – photo by Katherine Ferris, clinical hypnotherapist
Hypnotherapy Annandale, Inner West Sydney
Hypnotherapist – Sydney Wellbeing Centre
129 Booth Street
Annandale, NSW, 2038
(Entry in Annandale Street)
Ph: (02) 9568 6801 
Saturday 9am – 4pm
My name is Katherine Ferris an experienced Hypnotherapist of Sydney Wellbeing Centre. You can find me at two locations: Macquarie St. Sydney CBD and Booth St. Annandale.
Annandale, Inner West Hypnotherapy Practice of Sydney Wellbeing Centre is situated in a share practice. The clinic is shared with Sydney Institute of Holistic and cosmetic Medicine. Located on the corner of Booth Street and Annandale Street, in the leafy Inner West suburb of Sydney.
Good public transport is found nearby
Light Rail is located at end of Annandale Street, at Rozelle Bay Tram stop. It's just five or six hundred meters away, within an easy short walk.
Bus services have regular timetables in and out of the city. Bus stops are less than few hundred meters at corner of Johnston and Booth Street.
Train Stations are at nearby suburbs of Stanmore, Newtown and Marrickville.
Parking facilities – if you are driving there is plenty of on-street parking in quiet streets in and around the Hypnotherapy Location of the Annandale clinic.
Local Inner West Hypnotherapist Katherine Ferris (see Google Map above) at this Handy Annandale Location
The suburb of Annandale is just a short distance from the city of Sydney. About 5 kilometres to be precise. It 's nestled between the suburbs of Balmain, Glebe, Lilyfield and Leichhardt.
Hypnotherapy in Handy Location of Annandale, Inner West Sydney
If you arrive early for your appointment you can enjoy a cup of coffee in the nearby friendly village atmosphere. Annandale has no metered parking restrictions in and around the friendly shopping village.
Annandale has wide streets, lined with many shady trees and ample parking.
There are plenty of parks to explore nearby. Including Jubilee Park with a Bay Walk which offers breathtaking water views over to the city. Some of these amazing views are found in a snapshot I took recently (as you can see in the photos above and below).
Similarly, the Glebe Foreshore is an easy stroll along Rozelle Bay through to Blackwattle Bay. This waterfront area is really popular with families and children enjoying the park and playgrounds. Meanwhile cyclists and joggers trek along the many wide paths. On the water the rowers are doing their daily training, with lots of small boats sailing in and around the Bay.
According to Best Sydney Walks, there are plenty of family friendly paths along the Bay with views of the three iconic Sydney bridges: Anzac Bridge (1996), Glebe Island Bridge (1903) and the Harbour Bridge (1932).
Families love taking a stroll along the bay. I love to walk to the Sydney Fish Markets to enjoy the fresh seafood. A pleasant sunny day will make this walk a really great day out.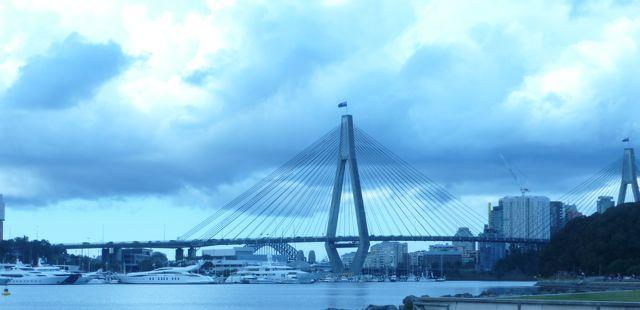 Magnificent views over the city. Annandale and Inner West district views. Photo by Katherine Ferris, Clinical Hypnotherapist
For Hypnotherapy Sydney CBD location go here
More details about Hypnotherapy Services in Sydney CBD and Annandale Inner West Sydney