Hi Katherine,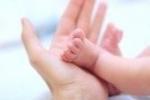 Elenor's birth was wonderful, no medical intervention/pain relief, even though she did turn posterior last minute, but it was quick and amazing.
Thanks for your fantastic hypnobirthing class, birth was not as quiet as on the dvd's. I did use stress-balls and vocalisation but had a lot of confidence and belief in my body's ability, no fear/stress.
Viewed each contraction as a great step forward, thanks to you.
Kind regards,
Birgit