Good Afternoon Katherine,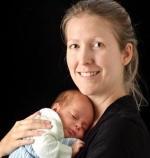 I just wanted to email you to let you know that I really enjoyed your classes and that we had our baby boy Max on the 11th August. He came 5.5 weeks early, which was a big surprise as there was no prior warning.
I was planned to have my baby at Ryde Hospital at the midwife clinic, however since Max was premature – I was forced to have him at Royal North Shore instead.
My birthing did not go as planned, as we had no time to prepare and I was not mentally ready for it all to happen so soon.
However, your classes really helped me during this crazy time! I was not able to have the calm birth that I wanted, however the Hypnobirthing breathing really helped me stay calm in between the surges and also helped me cope with the pain.
I ended up only having some morphine right at the pushing stage and felt very proud of my accomplishment 🙂
Thank you for your classes, that I felt really helped my first labour be a happy memory.
Lisa A.