Hi Katherine and classmates Sher and Patricia,
Adad here… remember me ?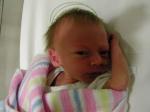 Andy was born at week 35, so he'll be 16 weeks old this Sunday. He caught us completely unprepared yet we managed to apply some of the breathing techniques and had a quick birth (only 4 hours total time since we arrived to the hospital and no epidural). I will take the time to write our birth story soon, its been such hectic time for us (as I'm sure you know) and just now starting to really lift our head and see the world again.
We don't know for sure what happened but Katharine put it so lovely she said – he simply couldn't wait to meet us… (and possibly there was bleeding behind the placenta that couldn't be seen because the blood was trapped there, but they were not sure).
On Friday 19th of March I went to my regular check at the hospital, they measured my tummy and said he is measuring 30 weeks although I was 34.5 weeks so I needed to get an urgent ultrasound. I didn't make it to the Monday Ultrasound because Andy was born on Sunday 21st of March. Remember how we always said my belly was so much smaller than yours!
Andy was only 1.82kg at birth so that explains I guess the quick delivery but maybe it was something else, honestly it could have been even faster if we had changed the position once I was ready to have him. Despite the many conversations we had at the course I ended up on my back at that last stage and after an hour and a half of craziness the staff wanted to use vacuum, Shaun insisted that I'll change the position and oops, two minutes later Andy was born… could have saved me a lot of pain if the midwife was more open minded and nice (she was terrible).
Katherine all I can say at this stage is that thanks to you, Shaun was a real support person and really directed our birth and told everyone (including me) what to do. He was amazing and in control and was such a huge help that when someone asks me – "did he hold your hand during labour" I can't imagine more of an understatement than that.
Andy is truely everything we could dream of, we are both in love with our child and he is just adorable.
Sher, Pat – I hope your birth went well, and Sher that your boy is healthy and well after the expected time at the hospital. Keep in touch – I'm really looking forward to see photos of your babies.
Adad