My partner Ryan and I did HypnoBirthing classes with you in March 2008, and I just wanted to let you know we had a beautiful little girl on the 10th of June, who we named Berlin Natalie.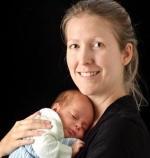 My labour was incredibly quick.
I started having really mild irregular contractions from 2pm. I called the hospital at 5.50pm to let them know that the contractions were about 5 mins apart.
They were a lot stronger at this point, but more uncomfortable than painful. I was told that the contractions should be 5 mins exactly apart for two hours, so to take two panadol to take the edge off and call back after that.
As soon as I got off the phone it felt like the surges were coming closer and closer together. I had a bath, then used the birth ball while leaning over the back of the couch. By the end of the two hours, I was desperate to get to the hospital, as the contractions were beginning to feel quite painful and were so close together that I had no time to recover in between. I did find though, that visualising the baby moving down the birth path; did help to dull the discomfort.
We got to the hospital's birthing unit at about 8.10pm. As soon as I'd changed into the hospital gown and got to the bed, my waters broke. Ryan went to get one of the midwives as I felt like I needed to push.
She came in to check how far dilated I was, and found the head crowning instead. She was fantastic, and was happy for me to breathe the baby out. Berlin was born at 8.44pm weighed 9 pound 3, and was 49 cms long. Her eyes were alert right away.
I asked for the cord not to be clamped until it had stopped pulsating, which took another 40 mins.
The midwife was really excited about our birthing and said it had been one of the best experiences of her career, to watch how Ryan supported me through the breathing and how calm and peaceful we both were.
Thank you so much for your classes! The breathing techniques really did help shorten the whole process for me and I'm so pleased that I'm now able to share a positive birth story. I've recommended the classes to everyone I know. ~ Lauren
Update…
Since this story was first published Lauren has had another baby.
Berlin now has a baby brother Madden….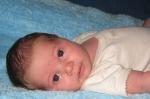 Lauren wrote, I wanted to let you know that we just welcomed a little boy into our family! He was born on the 27th August 2010 and we named him Madden James. Once again, Hypnobirthing provided us with a beautiful birth experience, a peaceful labour without drugs.
On the Thursday morning, three days after my due date, I began to get really mild irregular surges. At ten o'clock, we called our friend Lisa, who had agreed to look after Berlin for us, to tell her it was probably a good idea for her to come over just in case we had to rush to the birth centre (with Berlin, labour had only been two and a half hours long, so I was preparing for this labour to be even quicker). Of course, as soon as Lisa arrived, the surges went away almost completely – very disappointing!  The surges returned again later in the afternoon, once again irregular, but never more than ten minutes apart.
I went to bed feeling quite frustrated that the early stage of labour was taking so long this time around. During the night, I only had two surges an hour. I woke up at twenty to the hour, every hour (11.40, 12.40, 1.40, etc) and would experience a surge, then another one 6-8 minutes later, then nothing again until the next hour.
At around 5am, the surges were coming more frequently, but still weren't regular (4mins apart, then 8mins apart, then 3mins apart, never more than ten mins apart again). By 6.15am, I got up to have a shower, as they began to come at regular 2min intervals, but I wasn't sure whether they'd slow again once I got out of bed. They continued at two mins apart though (using the breathing, they were uncomfortable but not painful), so I called our midwife, Jeannine, to let her know and she told me to get to the birth centre immediately. I got Ryan out of bed to get ready, and then called Lisa to come around to watch Berlin.
We got to the birth centre at 7.40am. Jeannine checked me before I got into the birthing tub, and found me at 4-5 cms dilated. I had a small leak of my waters after the check.  Getting into the water was such a relief. I ended up hopping back out though, after about an hour and a half; because I felt like the surges were starting to slow down (they were still the same intensity, just further apart).
I was out of the water for about an hour and a half. Jeannine rubbed some clary sage oil into my ankles, and I tried a few different positions (kneeling on the floor over a bean bag, leaning forward against the table, leaning against Ryan) to help me breathe through surges. Jeannine checked me again before I got back in the water, and found that I was now 5-6 cms dilated, and that there was still a big bag of waters between the opening of the uterus and the baby. We discussed breaking the waters manually, as Jeannine thought that once they were broken, the baby would be out very quickly, but we decided to just wait a while longer to see if it happened spontaneously instead.
After getting back in the water, I again tried a few different positions to help with the breathing, and found that being on all fours, and leaning my forehead against Ryan's shoulder (he was sitting in the tub with me) was the one where I felt most comfortable. Jeannine came in periodically to check how we were going, top up the hot water in the tub and to check the baby's heart rate, but for the most part, she left us alone to focus on the breathing.
I think it was around 1.20pm when I started feeling more pressure, and like my body wanted to push with the breathing. At this point, I kept telling Ryan that I 'didn't want to do this anymore!', so I knew I was close to the end. Jeannine came in to see if I wanted my waters broken to hurry things along, but when she saw me, she knew that was no longer necessary. I continued with the birth breaths, and at 1.37pm my waters broke. There was meconium in the water, so another midwife, Vanessa, came in to assist. I kept breathing; they told me when to rest, but I went with my body's natural surges.
It was quite funny when only the head was out; the midwives told me to stop lifting my bum out of the water. I had to tell them through my breath that I was trying to keep my knees on the floor but the head was acting like a buoy and was lifting me out. They had to push down on my lower back to keep me weighted down, and at 1.41pm, our little man, Madden James, entered the world! I lifted him out of the water for his first cuddle, while the midwives rubbed him with warm towels to wake him up. He weighed 9"1, and was 56cms long. My second stage was only 4 minutes and no drugs were required.
I didn't tear this time, so I didn't experience the really sharp shooting pain as the head birthed this time around. When his shoulders birthed, I did get a small graze on my old scar though (no stitches needed).
After our first few moments together, Ryan, Jeannine and Vanessa helped me get out of the tub (still holding Madden). They moved me over to a mattress set up on the floor, with a beanbag to lean against. I offered Madden his first feed, while Jeannine checked to see the progress of the placenta. Just like last time, she found it ready to come out with one small push (I didn't have the injection to hurry it up). It wasn't clamped until it stopped pulsating about ten minutes later. This third stage took eleven minutes. The labour in total was 7 hours and 37 minutes.
After this, I was offered a shower, but chose instead to get into bed with Madden for more bonding time. After a couple of hours, I had a shower, and by 5pm, we were discharged and on our way home.
Our midwife Jeannine, was really impressed with how focused we were for the duration of the labour, and she commended Ryan for being with me for the whole time, using the soft touch massage on my back. He really was an incredible support for me once again.
Madden has been an incredibly easy baby so far. He's not a big crier, he loves his sleep, and he's been putting on about half a kilo a week, so feeding is no problem either. Berlin loves him and has had no problem adjusting to him joining our family, which is just fantastic.
Once again, I'm so pleased that I had a positive birth experience. I'm also so proud that I managed to do it again, without narcotics – despite my telling people of Berlin's birth story, and the benefits of Hypnobirthing, I got the impression that a lot of people thought that it was a fluke that I had a peaceful labour without drugs. I had been a bit nervous about impending labour as, with a toddler to look after, I hadn't had the chance to listen to my tapes very often. In the end though, the breathing all came very easily and naturally.
Berlin turned two in June. She's a lovely little girl; very sweet and happy and calm.
I feel that we are still seeing the benefits of Hypnobirthing in her today.
With love,
from Lauren, Ryan, Berlin, Madden xxxx