I had an amazing birth experience. Hypnobirthing worked brilliantly for me and I'm a huge believer in its benefits.
After taking the course, I practised religiously, every day for two months. I listened mainly to your birth visualisation and also the rainbow relaxation tracks. I also found the birth affirmations very comforting towards the end of my pregnancy. My husband would listen to the Hypnobirthing CDs periodically, to become familiar with the techniques.
I was due on May 23rd and went into labour on May 21st at 2:30am. At this time I positioned myself on a fitness ball at the side of my bed and leant over onto a stack of cushions. I had my husband put on the birth affirmations CD. I listened to the Hypnobirthing CD and focused on my breathing. With each surge I breathed balloon breaths to move through and then I completely relaxed in between surges. I stayed on the fitness ball, focused like this for four hours and didn't move at all. My husband had to tell me to try and move, as my legs were looking a bit purple!!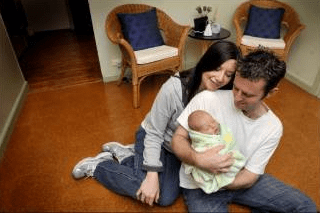 Basically I found the breathing and visualisation techniques worked amazingly. I didn't feel any pain, only pressure and a huge sense of relaxation in between surges. I could feel the endorphins running through my body and would go with the flow and welcome them.
My husband and I had arranged for a doula to attend our birth. She was very impressed with how I was going, so much so that she didn't know how progressed I was. After four hours I felt the urge to go to the bathroom. At that point my waters broke and I could feel movement in my pelvis. The doula suggested we make our way to hospital. I made my way downstairs as surges were coming on top of each other.
As each surge built, I'd focus on my breathing and make some noise at the peak and then completely relax at the end, with a huge sense of relief and even joy that I had made it through the surge so easily and my baby was coming closer to being born.
When I made my way to the bottom of the stairs and to the car I felt my baby's head move down more and thought "something's going on here". I put my hand down and felt my baby's head emerging.
The doula told my husband to grab some towels and she called triple zero. My baby was born two surges later on our kitchen floor, delivered by my husband, at 9:54am on May 21st. The ambulance team arrived 5 minutes later and baby and mum were both doing well. In total the labour was approximately 7 hours.
The reason why I did hypnobirthing was to be able to experience a natural, drug free birth, but I was also scared of the pain of labour. While I knew the outcome was going to be beautiful and special, I felt like I'd been conditioned all my life through horror stories of other women's births and television/movie depictions to believe that labour and birth was incredibly painful and traumatising.
I feel truly blessed to have had an easy, pain free birth for my first baby. When I arrived at the hospital it seemed like a lot of other women had experienced unnecessary trauma and intervention. I'm so glad that I birthed my baby, Melody Lain, in the comfort of my own home. I breathed her down, on my own without any drugs or intervention.
Thank you Katherine for teaching me the skills of hypnobirthing.
My birth story was published in my local paper, the Penrith Press.
Thanks again,
Rebecca, Benjamin and Melody