HypnoBirthing – My Journey to Motherhood
What a way to make an entrance into this world….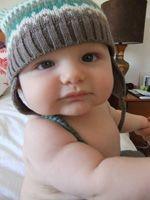 I am not sure what I expected to experience during my hypnobirth labour and childbirth. I had heard a lot of stories, many of which were negative.
But my twin sister Rebecca spoke very positively about what is such an amazing event and that meant a great deal to me. In some regards, I think I was a little naive but I always focussed on being positive, having no expectation and a confidence in my body and my strong intuition.
After having one of the most beautiful pregnancies, I was feeling really positive about the upcoming labour knowing that I'd had a wonderfully calm and stress free period in my life. I felt great and was in a very fortunate position where I could give my body and my little baby the best I could provide. In the weeks leading up to the birth I practiced yoga and meditation and listened to your birth CD's.
I walked (sometimes a hour or more a day) and was able to totally relax and even enjoy mid afternoon naps… How lucky was I to be so well prepared emotionally, physically and mentally.
I have a very supportive and beautiful partner and husband in Andrew. From the very beginning of this pregnancy, Andrew and I enjoyed learning about this special time in our lives. We committed to a Hypnobirthing course (more on this later) and also attended antenatal classes at the Mater. We read a number of good books, which gave us an insight into what to expect. I have always believed that knowledge is power and, as a result, I felt fully prepared for this amazing journey ahead. Andrew thoroughly enjoyed this time as well as the Hypnobirthing course. His involvement strengthened our relationship. I often joked that it should be him having this baby and he was often referred to as… Dr. Doherty.
We found a great obstetrician in Dr Vijay Roach. It probably wasn't until after this little baby entered the world that we realised how amazing and special Vijay was (more on this later). We decided to have our little baby at the Mater Hospital – a small hospital very close to our home. My sister had given birth to her girls at this hospital and she recommended the hospital and its excellent staff highly. A number of our friends echoed similar positive remarks.
So, the journey began… After waiting 12 days beyond our due date on the 2nd October (though we had counted 9th October) it was decided that we would have an induction – something we were reluctant to do given our research on complications that may arise, ie most births that start with intervention finish with intervention. I wasn't overly surprised that induction was on the cards given my family history – both Rebecca and my mother had inductions.
So it was to be… we were to be booked into the Mater on Wednesday 14th October for an induction. After a great night's sleep (surprising considering what events lay ahead – Andrew was the one who had trouble sleeping!) I awoke early. Within minutes, the phone rang. Who could be phoning at this time of the morning?? It was only 630am. A curve ball was heading our way. The Mater was fully booked and they would call around lunchtime to advise if a delivery room was available. How clinical and so not what we signed up for! After processing this emotional rollercoaster, Andrew and I made plans for the morning. We both had a few more hours of sleep and then took advantage of the beautiful weather and headed down to Balmoral – our favourite place in the world and the place that holds a lot of significance to both of us. Around 11:30am we received the call up – "Please proceed to the Mater; we can now accommodate you". This message gave us shockwaves – it was time for action!
We arrived at the Mater just after midday. I was feeling amazingly energetic and calm. Andrew and I were both ready to bring this beautiful baby into the world. Little did we both know what was to lie ahead… Firstly, we were introduced to our midwife on duty at the time – Jenny. I immediately connected with her and felt comfortable that she would be assisting our little baby's journey into the world. Rebecca had spoken highly of Jenny as she was on duty during Sasha's birth so I felt like I was in good hands. Vijay arrived soon after and explained the course of events and the best procedure given my limited progress. After discussion with Vijay, Jenny and Andrew, it was decided that 'the gel' would be applied to my cervix and then I would be reassessed in six hours. Six hours is a long time to wait so Andrew and I decided the make the most of it and go for a walk to Crows Nest to visit my favourite furniture store – Coco Republic. Within minutes of leaving the hospital, I started to feel mild contractions. I was not expecting to experience this so quickly and found myself stopping to view every menu on display in the windows of restaurants to help take my mind off the situation. How surreal to be walking in the street with the general public and experiencing the early stages of childbirth. The strangers we walked past had no idea of the significant event we were embarking on. I reflect on this time now as a missed opportunity – So many beautiful things in Coco Republic and I was not able to focus on or enjoy them for a minute…
On return to the 'Hotel Mater', I decided it was time to focus on relaxation and getting some rest. Over the next four hours, I continued to experience contractions every minute building in intensity. They say you lose all sense of time during labour…Could it really have been four hours. Throughout those four hours, I practised my breathing, one of the tools I learnt as part of the hypnobirthing class. Andrew was amazing. He was such a strong emotional support and pillar of strength and confidence during this challenging time. He offered so much reassurance and care. He counted my breathing and let me know calmly and gently when I had reached the peak of each contraction. I could not ask for a better husband. What a wonderful experience for the both of us. Andrew was with me throughout the entire four hours – his only distraction was when a lamb roast arrived from the kitchen. Knowing my husband who has a love of food and hates waste – he quickly devoured this in between one-minute contractions. This is something I will laugh about in years to come…
During this time, there was a concern our baby's heart rate was decreasing through some of the contractions, indicating he/she was not completely thriving. Our baby was asleep, so I was instructed to drink lemonade to wake him/her up. It needed a sugar fix… Again, how funny. Another sign that this baby had all the time in the world and was quite happy to stay in the warm and comfortable environment inside my womb.
It was at this time that things changed dramatically for Andrew and I and our little baby. Our lovely midwife Jenny had come to the end of her shift and would be relieved by Amy – a young attractive girl with a strong American accent. Amy was extremely confident in her manner and had a sense of purpose. Initially I was a little overwhelmed and felt a bit threatened by her assertive nature but reflecting on this now – Amy was definitely our little angel. Without her instruction and direction, this labour would have taken an entirely different course. She quickly administered a drug that is only used a couple of times a year at the Mater to slow my contractions down. Within minutes, I felt instant relief. How nice it was to take some time out between contractions.
Vijay was called in and he was soon with us. I felt a huge amount of guilt. Vijay had been at a Sydney University function and had to leave early to attend to our labour. Though in hindsight, I wasn't in control of this timing and it was better this time instead of the early hours of the morning. I remember Vijay's concerned look as he assessed the situation. Andrew and I had been through a lot with Vijay, a well-respected obstetrician who has years of experience in his field. Andrew and I through our reading had so many questions for Vijay to ensure we had a natural labour with minimal intervention. At times, this proved to be quite challenging for all concerned. Vijay has been practicing obstetrics and believed he was capable of providing the best care. Andrew and I never doubted his ability. I do remember one appointment where my hormones must have taken over and I couldn't control my emotions. Tears flowed as he proceeded to tell me that maybe I had not chosen the right environment and medical team to bring this baby into the world. Later after this appointment, he sent a very warm heartfelt e-mail to let us know that he respected our wishes and was honoured to be part of this journey. In hindsight, I am relieved that Vijay was part of this experience – without him, the labour would have been completely different and I would not have reflected so positively on the experience.
By this stage the contractions had increased in intensity – no time for music, essential oils or meditation, however I did feel like I was in control and was able to continue to use the breathing techniques learned as part of the hypnobirthing course. Thankfully, my beautiful husband was by my side to reassure me and provide positive affirmations. I felt blessed.
Everything seemed to be moving at a ferocious pace. Unfortunately there was still limited progress with my cervix – I was still 3cm dilated – and it was at this stage that Vijay politely instructed that it was necessary under these circumstances to perform an emergency caesarean. The placenta was tearing so there was no time to lose. Obviously, Andrew and I were deeply upset but respected Vijay's advice and opinion… and so we were prepped for the operation.
Within minutes many decisions were made – I signed paperwork; the midwives on duty shaved me and placed compression socks on my feet. It was also at this stage that Andrew and Vijay left the room to be suited up for theatre – something I had trouble with. At this very crucial stage, I had become very dependent on Andrew. I was then wheeled down to theatre and was greeted by approximately 10 staff who would all be present for the birth of our baby. How overwhelming. One attendee happened to be a well known medical expert on Channel 9's "The Today Show" – Rick Gordon. I am sure he didn't expect me to recognise him especially under the circumstances and the disguise of his theatre clothes. It was quite a celebrity moment for me. I even managed to share a joke about our baby's hair colour matching my husband's and his hair colour. Something to laugh about… Another medico on board for the ride was the anaesthetist Nav who was a gentle soul with a lovely bedside manner.
What happened from this time onwards was quite remarkable. In the period of time while being prepped for surgery and being set up in the operating theatre, something quite amazing happened. My cervix apparently dilated from 3cm to 10cm within minutes and this meant that there was a chance that maybe this baby could be born naturally. Hearing this news sent more than tingles down my spine. I honestly believe God was looking down on me at this time.
The next memory I have is of Vijay's strong encouraging voice guiding me to bring this baby into the world. In fact, both Dr Rick (in his best television voice) and Nav pitched in with the instructions – I felt like I was running a marathon and was on the home stretch….
It was a very surreal moment to see our little baby in the arms of Vijay. He then announced that we had given birth to a healthy baby boy. He was a little pale at first so he was given a little oxygen but he gained colour quickly and was given very good APGAR scores. How amazing was this extraordinary experience – it was so intoxicating. The euphoria and excitement running through my hormone-charged body was overwhelming. Within minutes, my maternal instincts kick in. I was in heaven. The proud look on Andrew's face is a moment captured in my mind forever.
Ryan Blake was a born at 8:56pm weighing 3.64kgs (8 pounds) which was the same birth weight as his father. He was 55.5 cm in length. It was truly the happiest day of my life (on par with our wedding day). Andrew and I have never felt so elated. This memory will stay with me forever… I feel blessed.
Rachel