This is Rachael, my husband Kester and I attended your Monday evening Hypnobirthing sessions throughout May in the CBD.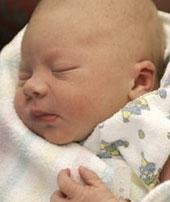 Katherine, I can't thank you enough for all you taught us during our sessions with you. Our sweet baby boy Riley was born on the 29th May, at 36 weeks and 6 days, a healthy and calm little soul. The skills that hypnobirthing equipped us with were utterly invaluable.
I was hospitalised the week before Riley was born due to high blood pressure and the need to monitor baby's heart rate. I would listen to your Hypnobirthing CDs to help me relax, sleep and retain a positive frame of mind during those tense days.
With the medics advice, I made the decision to be induced. Through the procedure of my waters being broken, I again listen to your CD recording while practising the relaxing breath. When the surges came, the balloon breath was wonderful, helping me ride the waves and give my uterus enough space to work.
Kester was an amazing support, constantly using the hypnobirthing positive affirmations to remind me to trust the natural process I was experiencing and I found the light touch massage that he used on my back very soothing and helpful. Stage two came much quicker than any of the medics expected. I again used the breathing techniques you had taught us and with a couple of J breaths, and just 6 minutes after stage two started, Riley was born. The birthing in total was only just over 3 hours.
The obstetrician who cared for us commented later that having seen how we approached the birth, he was now a fan of hypnobirthing!
He thanked me for making his job easier by remaining so calm through having my waters broken (it had been a trickier than expected procedure) and that the atmosphere in our birthing room was the calmest he had ever been in.
Katherine, it was not only the hypnobirthing techniques that helped us so much, it was also what you uniquely brought to the experience. Listening to your gentle and kind voice on the birth CD recordings through Riley's birthing and being reminded of all the positive and supportive discussions we'd had with you during the course helped to ground me and to believe that it could really be a 'good' birth, which I'm pleased to report it was!
Kind regards and a thousand thank you's,
Rachael, Kester and Riley
MY REPLY:
Congratulations!!! Wow, what an amazingly quick and calm birth for your little boy. My thoughts were with you in the meantime while you had pre-eclampsia, wondered how it all went. Tears of joy spring to my eyes as I read this. I am very touched. I am sure that Sandrina and David will be very happy to know how it went with your birth, they were looking forward to hearing your news before their turn comes.
I would love to see a photo of little Riley, I am sure he is as cute as a button. It would be wonderful if the opportunity arises to catch up for a coffee and meet him. I had a similar opportunity last Friday, a tiny 9 week old bubba was smiling at me every time I spoke to him. It was so beautiful and very satisfying for me!!!
Thank you so much for sharing, I am elated to get such positive and wonderful news. In the meantime enjoy being a mum and dad, I know that little Riley is a lucky little boy to have such caring parents. Hugs xxx
Katherine